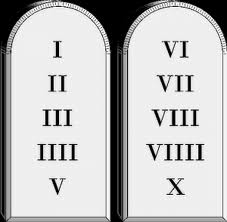 None of us are above the need for the occasional reminder or the need to once again be reminded of what's important. Most of our readers are small business people. That means we have many roles that tug at us constantly. That's why it is important to occasionally review what's important, what I call first order tasks. While everyone has their favorite list, here's a friends list of the 10 Commandments of Selling that I think is particularly well done Let it be a great springboard for further conversation and review. Here they are along with my comments.
Permit Facts Leads
Permit Facts is a must have for those companies—building material suppliers, sub-contractors, service, financial and real estate—that need accurate, timely data on all construction activity. Here are the features of our Permit Facts reports:
Published weekly, Permit Facts informs you of who is building what, where and of what size along with many other important details about the project including: builder/contractor name, address and phone number, project/subdivision name, address, size, value, description and legal information. Additionally, new or first time contractors are highlighted each week.
Permit Facts reports on all new structures as well as additions, renovations, and interior finish activity in both the commercial and residential construction markets.
Timely, accurate and comprehensive, Permit Facts has the most complete coverage of the residential and commercial sector available.
Permit Facts reports are extremely user friendly—published in a unique "fast-read" format, sorted by county and alphabetized by builder name. Each report includes up-to-date fresh information on projects permitted the week before. Electronic delivery and customization of reports are available.
Each weekly Permit Facts report covers the full metro Atlanta area, including 105 cities and 29 counties including:
DEC/NBA provides a variety of different delivery and access methods including email, web access
Because we look for these leads every day you don't have to. We always provide full contact information, the activity going on at the business, i.e. warehouse, office, etc. and estimates of size or volume among other pieces of information.
For more information or for access to our database of information call us today at (770)578-0025 and dial ext. 850 to speak to Maxine Arena. Or email us at sales@NewBusinessAmerica.com. You can also click on this link for an immediate short demo.
About Us
DEC International is a database publisher that collects information for businesses and organizations that are targeting B2B selling or the Georgia construction market.