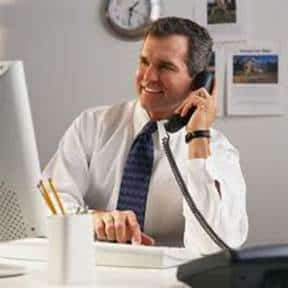 don't know who you are.
I don't know your company.
I don't know your company's product.
I don't know what your company stands for.
I don't know your company's customers.
I don't know your company's record.
I don't know your company's reputation.
Now- what was it you wanted to sell me?"
Moral: Sales start before your salesman calls……… with business publication advertising.
Focus on Prospect Facts
DEC's roots are firmly grounded with our award winning planning tool Prospect Facts. For over twenty years Prospect Facts has delivered the best early head's up information available anywhere. Prospect Facts covers all of Georgia and is strictly private sector, non-governmental construction. Each week Prospect Facts spotlights 15-25 projects in the early to mid-planning stages. You'll receive timely information tailored to the needs of companies that understand the importance of following projects at an early stage either due to specification requirements or to have time to develop relationships.
Typical clients for Prospect Facts are financial institutions keeping up with the market, subs and suppliers that need to have their product/service specified by the architect/engineer, general contractors, A&E firms, geotechnical and site support people and others that want to pick and choose their targets rather than work just at the bid stage. Prospect Facts always includes the proposed scope of work, good contact information and the best timing information available. Another major plus, a DEC exclusive, is access to our research department. Utilize our team of researchers, with an average of 16 years working for us, to find out additional information on both projects we have published on in the past or even for projects that you may become aware of through other means. Whatever the case, only DEC actually lets you speak to a live researcher.
Many members got hooked on Prospect Facts only after working with our Bid Facts service first. Planning information requires a bit more discipline than letting the Bid Calendar govern your bidding decisions. The advantage of working planning information is generally higher margins overall and the ability to develop relationships that will lead you to other opportunities not generally known on the street.
If Prospect Facts sounds interesting to you:
Call Maxine Arena for Residential Sales at (770) 578-0025 Ext. 850.
Call Jim Ross for Commercial Sales at (770) 578-0025 Ext. 809
November Permits 

Maple Multi-Family SE Contractor received a building permit for construction of a $17,698,864, 141,642 square foot apartment complex at 160 Clairmont Avenue in Decatur. For additional information contact the contractor at 678-592-8314.

November Biz Facts

Firehouse Subs of Fayetteville has opened a restaurant at 39 Hudson Plaza with 28 employees. This 20 year-old company has over 750 restaurants in 41 states. For additional information contact Jitesh Shah, Co-Owner, at 770-460-6500.

November Prospect Facts

Noble Investment Group, LLC (https://www.nobleinvestment.com/Noble/) has announced preliminary plans for a new upscale "AC By Marriott" brand hotel on property next to Phipps Plaza off Peachtree Road in Atlanta, GA.  Early plans include: (1) building, 100+ rooms plus an attached parking deck.  The Marriott AC Brand Architect is Virginia-based Baskerville & Son Architects (https://baskervill.com/).  See Prospect Facts for additional details and future updates.

November Bid Facts



Cascade Hospitality Group along with developer Vision Hospitality Group (www.vhghotels.com/) is planning a new Courtyard By Marriott @ Sugarloaf on a 2.10-acre site off Satellite Blvd in Duluth, GA.  Project details: (1) building, (6) stories, 115-rooms, approx 70,939 total gross square feet with a 95-space parking lot.  The negotiating general contractor, EMJ Corporation, has set a bid date of 8-13-14 for qualified subs & suppliers. The project architect is Phillips Partnership (https://www.phillipspart.com/).  Miller McCoy, Inc. is the civil engineer while DSI Engineering is handling the structural.  See Bid Facts for complete project details including plan links and specifications.
November Planning and Zoning Facts 
Childeren's Learning Center – RZ-14-0012: Cross Development LLC (AKA: Children's Learning Adventure Childcare Centers)( https://www.childrenslearningadventure.com/index.php ) IS SEEKING REZONING TO C-1 (COMMUNITY BUSINESS DISTRICT) CONDITIONAL FOR A CHILDCARE, PRESCHOOL AND AFTERSCHOOL FACILITY AT THIS 4.77-ACRE SITE IN JOHNS CREEK, GA.  PROJECT DETAILS; (1) BLDG  APPROX 33,237 SF
November Permit Data for Metro Atlanta
NEW CONSTRUCTION – METRO ATLANTA:
 (Excludes Alterations and Renovations)
JAN – JUL
2013
JAN -JUL
2014
Single Familly Residential
7168
8100
Multi-Family Residential
749
1290
Commercial
836
897
Total New Permits
8753
10,287
About Us
DEC International is a database publisher that collects information for businesses and organizations that are targeting B2B selling or the Georgia construction market.